For Immediate Release –
San Rafael, CA –
Public meeting set to address circulation and safety at heavily used crossroads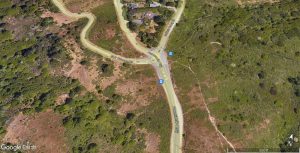 The Marin County Department of Public Works (DPW) has been evaluating potential design improvements for a heavily used intersection on Mount Tamalpais known as Four Corners. The intersection of Panoramic Highway / Sequoia Valley Road / Muir Woods Road provides access between Highway 101, Shoreline Highway, Mill Valley, and Tam Valley to Muir Woods, Mount Tamalpais, Stinson Beach, and other West Marin destinations frequented by locals and visitors alike.
An online public meeting[External] will be held on Monday, October 30, at 6 PM to review the proposed project and provide a progress update on the short-term design. During the virtual meeting, the design team will discuss the proposed changes to the intersection layout and signage modifications to improve the circulation and safety at the intersection and welcome public comment on the proposal. Since the prior public meeting in December 2022, the design team has been working on a detailed short-term solution including lane realignment and signage plan, which is targeting construction for 2024. Residents can attend the October 30 virtual meeting via the invitation link[External].
Typically, the Four Corners intersection has a daily traffic volume of around 4,100 vehicles during weekdays. That number can swell to over 7,000 vehicles per day on weekends with nice weather. The goal of the project is to improve visibility and functionality for all users, including tourists who may not be familiar with the area. The project will improve configuration of the intersection, including the skewed approaches of the roadways and lane alignments. The number of cyclists and hikers either using or crossing the roadway further emphasizes the multimodal uses and the need to develop a solution that benefits all users.
Initial analysis of the intersection led to two design concepts which were presented at a community meeting that took place online in December 2022. The short-term concept was to redesign the existing lane layout approaching and through the intersection, which could be accomplished with repainting lane lines and improving signage. The long-term alternative would replace the intersection with a roundabout. In addition to needing funding for construction, implementation of a roundabout would involve extensive engineering and design work, community outreach, and coordination with surrounding landowners.
###
For disability accommodations, please phone (415) 473-6358 (voice), CA Relay 711, or e-mail the Public Works staff at least five business days in advance of the event. The County will do its best to fulfill requests received with less than five business days' notice. Copies of documents are available in alternative formats, upon request.
Contact:
Julian Kaelon
Public Information Officer
Public Works
3501 Civic Center Drive.
#304
San Rafael, CA 94903