For Immediate Release –
San Rafael, CA –
Lull in traffic provides good timing for Public Works and contracted crews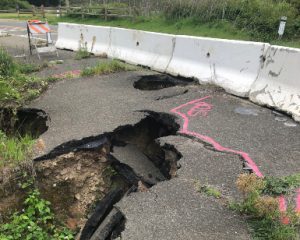 With fewer cars on the road due to the COVID-19 sheltering order, the Marin County Department of Public Works is taking advantage of the traffic lull to conduct two projects on County-maintained roads near Mount Tamalpais.
The first is a road striping project staring April 30 at a rural intersection near Muir Woods National Monument, above Mill Valley. The second is a roadside culvert rehabilitation on Frank Valley Road near Muir Beach that is expected to begin sometime in May.
The striping project will take place at the junction of Panoramic Highway, Sequoia Valley Road and Muir Woods Road, a spot known locally as Four Corners. Starting April 30, a contracted company will grind off existing striping and put temporary lane markers in place to guide traffic. Over the next two days, the intersection will be slurry sealed to make the pavement dark black. The temporary lane markers will remain in place while the slurry seal dries over the next week. Final striping is scheduled to begin May 9.
On Frank Valley Road, about a mile northeast of Muir Beach, the roadside culvert near Santos Meadow has been failing for many years and resulted in single-lane traffic flow for almost a decade. DPW secured a federal grant and had scheduled the repair for 2021, but rapid degradation of the culvert has made the project a more urgent priority. Details of the project are still being discussed with state and federal agencies. Once work begins, only essential transportation will be allowed on Frank Valley Road for about one week.
Neighbors in both areas will be notified about the projects.
Marin County Public Health's shelter-in-place order[PDF] of March 31 directed all parks, campgrounds, and open spaces to close access for motorized vehicles. The two Public Works projects are in areas that are popular for recreation by local and travelers. Hikers may continue to use trails that are local to their residences and reachable by foot, but visitors in vehicles are strongly discouraged to from exploring Marin during the pandemic. A County resolution limits open space and trail usage to those that are accessible by non-motorized means. Any vehicle parked near a trailhead for the owner's purpose of using the trail is in violation of the order unless it has a disabled parking placard or DP license plate. Sheriff's deputies are actively patrolling to look for violators who do not display evidence of a disability on their vehicle and are driving for non-essential reasons.