For Immediate Release –
San Rafael, CA –
Presentation scheduled for national monument's multiyear improvements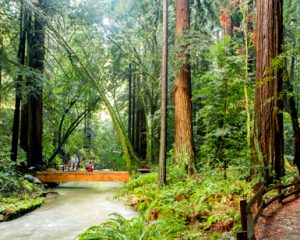 A progress update on a parking reservation system and traffic control measures associated with the Muir Woods National Monument[External] will be provided to the Marin County Board of Supervisors on Tuesday, October 6. The public is encouraged to participate in the meeting online at 10 a.m. or shortly thereafter. Details on how to attend the virtual session and to submit comments can be found online[PDF] (view in Spanish[PDF]).
The Marin County Department of Public Works is responsible for aspects of transportation in the Muir Woods area and works on behalf of residents affected by park traffic. In typical non-pandemic years, the park attracts about 1 million visitors.
The update will be given by the National Parks Service (NPS) in partnership with the Marin County Department of Public Works (DPW). The County of Marin entered into a memorandum of understanding[PDF] (MOU) with NPS in 2015. As a provision of the MOU, updates have been provided through public meetings twice per year.
The goal of the MOU is to help with the long-term sustainability of the Muir Woods National Monument, which is visited by over one million people annually. Since the park is accessed via Muir Woods Road and Frank Valley Road, which are in the County's road jurisdiction, DPW is responsible for aspects of transportation in that area and is working on behalf of residents affected by park traffic.
In January 2018, NPS implemented the parking reservation system that supports management of visitation to levels that meet park goals for safety, natural resource preservation, visitor experience, and public access. The reservation system provides a measure that will allow the park to work with visitors in advance of their arrival so that congestion, and its related impacts, can be minimized and the quality of the experience enhanced. Parking restrictions such as traffic barriers, wooden posts and no parking zones have been implemented along Frank Valley Road and Muir Woods Road. NPS has also enhanced the Muir Woods shuttle program to support access to the monument.
The benchmarks outlined in the MOU have been consistently achieved ahead of schedule. Based on public feedback and usage data, the impact of the reservation system has been effective at reducing congestion in and around the park and it has improved visitor experience while in the park. Additionally, it has reduced the adverse impacts to the watershed that were identified prior to the implementation of the parking restrictions and reservation system.
NPS and the County of Marin are committed to a phased elimination of parking outside of the monument's boundaries. The October 6 progress update will provide a detailed rundown of what has been accomplished since the last update in December 2019 and what the public can expect moving forward. Additional details on the overall project can be found on NPS' website[External].