For Immediate Release –
San Rafael, CA –
Select residential roads in Upper Lucas Valley to receive improvements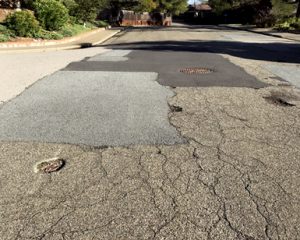 The Marin County Department of Public Works (DPW) will begin repairs and improvements to a selection of County-maintained roads in Upper Lucas Valley neighborhoods in early May. The $1.6 million project, covered by the County's Road and Bridge Rehabilitation Fund, is expected to take four months to complete.
The project consists of full-width grinding of the deteriorated pavement, roadway base failure repairs, road resurfacing and microsurfacing. Minor drainage improvements, including curb and gutter upgrades, will also be implemented.
Additionally, the scope of work will include pedestrian improvements. Sidewalk conditions will be addressed, and accessibility curb ramps will be added where they are deemed necessary or updated where they no longer meet Americans with Disabilities Act requirements. To accommodate these ADA improvements, Pacific Gas and Electric, AT&T and Comcast will relocate the respective utility vaults as needed. The utility work will be coordinated with the construction contractor.
Construction will take place from 7 a.m. to 5 p.m. weekdays. Work may require temporary periods of single-lane traffic controlled by flaggers. Most of the work can be accomplished without traffic impacts exceeding five minutes.
During the grinding and paving operations, workday road closures will be necessary on several residential streets. Road closure notifications will be made to any potentially affected residents seven days in advance and message boards will be strategically posted to maximize awareness. Through roads without detours will remain open. As per standard procedure, emergency services vehicles will always have access.
The project will address the residential intersections at Mount McKinley Road and Mount Rainier, El Capitan Drive and Mount Whitney Court, Mount Foraker Drive and El Capitan Drive, Mount Foraker Drive and Mount Foraker Court, Mount Foraker Drive and Mount Lyell Drive, Whitney Drive and Mount Foraker Drive, Mount Shasta Court and Mount Shasta Drive, and Mount Shasta Drive and Vogelsang Drive. Impacted residents of the targeted sections of roadway have been notified directly and will continue to be informed as the work progresses.
Improving roadway conditions across unincorporated areas of Marin has been an ongoing commitment of the County for years and is one of the top priorities for the Board of Supervisors. Which roads get addressed by DPW during any given paving season is based on an evolving list that is prioritized by a variety of complex factors. Some of the categories taken into consideration are the particular year's funding allotment, permit availability, scheduling requirements, coordination with other projects and/or agencies, and each roadway's pavement condition score.
Each year, DPW aims to improve a balance of local, arterial and collector roads. For example, this summer DPW will be conducting the $2.25 million Lucas Valley Road hairpin turn realignment project, as well applying a pavement preservation treatment on approximately 9.5 miles of roads in unincorporated areas Novato and San Rafael. Also, the $18 million Sir Francis Drake Boulevard rehabilitation project, titled Upgrade The Drake, is expected to wrap up an 18-month construction phase this fall. The major project will improve public safety along 2.2 miles of the heavily used roadway.