For Immediate Release –
San Rafael, CA –
Neighborhood curb upgrades are latest in disability access improvements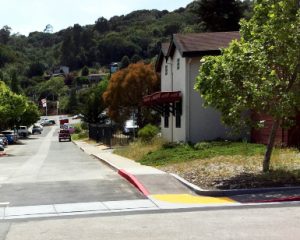 Starting the week of October 19, a series of accessible sidewalk ramps will be installed in the Santa Venetia area near San Rafael, further demonstrating the high priority the County of Marin places on accessibility improvements for its residents, employees, and visitors to the county. The accessible ramps are just one of several accessibility projects that the County initiated this year.
Marin County's Disability Access Program provides extensive civil rights training opportunities, technical assistance, and consultation services not only to County staff but to the Marin community in general. The program also collaborates with County engineers and planners to identify specific infrastructure improvement needs.
Intersections in Santa Venetia soon will receive accessible ramps just like this new one in Marin City.
Since 2006, when the Marin County Board of Supervisors formalized its commitment to maximize accessibility for persons with disabilities, the County has allocated $1 million per year to specifically fund architectural accessibility improvement. All new facility and roadway projects are designed to meet or exceed accessibility standards.
Starting October 19, the Marin County Department of Public Works (DPW) will install accessible curb ramps and sidewalks at eight intersections in Santa Venetia, just east of the Marin County Civic Center. The $445,000 project will also gutter and drainage improvements, bringing the infrastructure up to standards. Construction will take place on weekdays, during normal business hours, and traffic impacts are expected to be minimal. Flaggers will used to direct traffic during occasional, brief lane closures. The project is scheduled to finish by late December, weather permitting.
Two other significant accessibility improvement projects were undertaken this year. In West Marin, the Point Reyes Station Visitors Center was upgraded to include additional accessible parking spots and a ramp to the street to facilitate access to the public transit stop near the facility. On the other side of Marin, in unincorporated San Rafael along the San Francisco Bay, Bayside Park began a renovation project that will bring the public space up to accessibility standards. The completed design, which will be implemented in 2021, includes graded pathways and sidewalks, new benches with accessible adjacent pads, revised trash receptacles and an accessible parking space.
New construction and architectural barrier removal projects are just one facet of the Disability Access Program. All County programs, services and activities must be accessible to and usable by individuals with disabilities.  Program staff, guided by the principles of inclusion, interdependence and Universal Design[External], work closely with all County government departments to ensure equity and access is provided for employees and members of the public with disabilities.
To learn more about the County's commitment to accessibility, visit the Disability Access website. For additional information on a range of projects and programs, visit DPW's website. For immediate updates, alerts and news, visit DPW's Twitter[External] and Facebook[External] pages.