For Immediate Release –
San Rafael, CA –
Four miles of roadway to Dillon Beach to be improved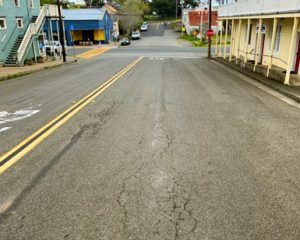 Warm summer weather is perfect for paving roads, and the Marin County Department of Public Works (DPW) is set to resurface about four miles of Dillon Beach Road in West Marin. The estimated $2 million project will improve the road from Highway 1 in Tomales to Beach Avenue in Dillon Beach, a popular destination for locals and tourists.
Construction will begin October 2 and is anticipated to finish by early November. The contractor will remain in compliance with the current Marin Public Health order for construction projects. In addition to resurfacing, shoulder stabilization and drainage improvements will be conducted along sections of the roadway. The project is funded by the county's Road and Bridge Rehabilitation budget.
The paving process will use cold in-place recycling technology, an eco-friendly alternative to traditional paving practices, reducing greenhouse gas emissions by approximately 80%. The method involves grinding the top several inches of old pavement, and then mixing the reclaimed material with a recycling agent. The recycled material is then placed back on the roadway, where it is compressed and sealed. The entire process occurs efficiently onsite, making it more cost effective by requiring less truck activity, labor hours, and aggregate materials compared to hauling old material out and new material in.
Work will take place between 7 a.m. and 6 p.m. weekdays. The effort will require temporary periods of single-lane access during which the traffic flow will be controlled by flaggers. However, some sections of the roadway are too narrow to accommodate construction equipment and single-lane traffic at the same time. Those locations will require intermittent road closures. Traffic delays will be kept as short as possible while still allowing crews to work safely.
Improving road conditions across unincorporated areas of Marin has been an ongoing commitment of the County for years and is one of the top priorities for the Board of Supervisors. Which roads get addressed during any given paving season is based on a variety of complex factors. Each year, DPW aims to improve a balance of local, arterial and collector roads.