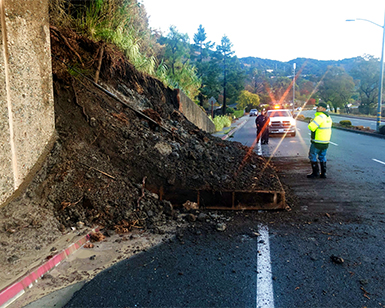 For Immediate Release –
San Rafael, CA –
Lane to close for approximately 10 weeks while storm-damaged wall is fixed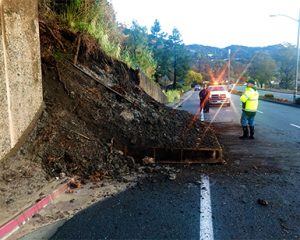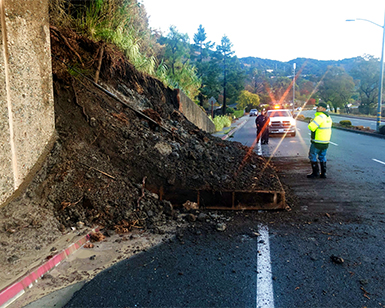 The Marin County Department of Public Works (DPW) is set to repair a stretch of retaining wall on Point San Pedro Road between Marina Boulevard and Summit Avenue in unincorporated San Rafael. Weather permitting, the estimated $600,000 project is expected to start January 27 and be completed by April 3.
On December 3, 2019, following a significant storm, a 45-foot-wide section of the retaining wall on Point San Pedro Road was pushed over by saturated soil. Mud and debris from the hillside behind the wall flowed out to block the road's shoulder and sidewalk. One of the westbound lanes was closed for the day to allow work crews safe access to the site.
Immediately following the incident, DPW staff stabilized the hillside and placed K-rail barriers to temporarily reinforce the wall. Engineers noticed unusual water ponding along the top of the hill above the wall and said that excessive water pressure within the hill likely was the cause of the slide.
For safety reasons, the bike lane, shoulder and sidewalk have remained closed since December 3. "Share the road" signage is in place for bicycle access, and pedestrian traffic has been rerouted to the south side of the street. That status will remain in place throughout the repair project.
Additionally, one of the westbound lanes will need to be closed for the duration of the project and westbound traffic will operate on one lane through that stretch of road. Construction work is permitted to take place Mondays through Saturdays between 7 a.m. and 5 p.m. All efforts will be made to minimize disturbance to the community and traffic flow.
The current scope of the project includes rebuilding approximately 90 feet of wall and replacing about 90 feet of sidewalk. However, additional testing is being conducted which may result in additional wall panels and sidewalk being replaced. Due to industry changes in materials since the wall was built in 1968, the look of the new section will deviate from the original aesthetic, but DPW intends to match the original style as much as possible.