For Immediate Release –
San Rafael, CA –
Public meeting set to provide details on pilot project for adjusted lane layout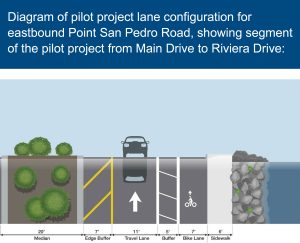 In April, a section of Point San Pedro Road in eastern San Rafael will be restriped during a pilot project to evaluate an alternative lane layout between Loch Lomond and Peacock Gap. The pilot project approach is unique in that it allows residents to experience a new road configuration and provide feedback before moving forward with final lane striping.
An informational public meeting to present the Point San Pedro Road Roadway Modification Pilot Project is scheduled for 5:30 p.m. Wednesday, March 30 via videoconference. The virtual meeting will be hosted by the Marin County Department of Public Works (DPW) and the City of San Rafael Public Works, since the area being addressed by the pilot includes both City and County maintained roadway segments. Information about how to attend the meeting is on the pilot project webpage.
The pilot project will modify eastbound Point San Pedro Road between Loch Lomond Drive/Lochinvar Road and Riviera Drive, converting it from two lanes to a single lane. Based on traffic flow data, the two eastbound Point San Pedro Road lanes east of Loch Lomond Drive have been operating at about 25% flow capacity. Because of that available capacity, modifying that stretch of Point San Pedro Road to one lane is not expected to cause significant impacts to traffic flow. The lane modification will provide space for a safety buffer from the median and a buffered bike lane, while also retaining existing on-street parking between Bayview Drive and Main Drive, including along Bayside Park. No physical changes, such as curb or median locations, will be made. The westbound roadway will remain unchanged for the pilot.
In addition to addressing Bay Conservation and Development Commission's (BCDC) permit requirement of having a bike lane along Bayside Park frontage, the pilot project will assess issues highlighted by the surrounding community including vehicle speeds, visibility concerns, collision history, parking availability, and pedestrian and bicycle safety. Instead of creating a discontinuous bike lane in front of the park to satisfy the BCDC permit requirement, DPW is seeking to elevate this improvement by evaluating the possibility of a more comprehensive, continuous bike lane through the corridor.
The success of the pilot project will be based on data and community input. Baseline data collected in February 2022, outside of the pandemic shelter-in-place orders, included vehicle counts and speeds, bicyclist counts, and collision details. The same data points will be collected during the pilot project.
This fall, Point San Pedro Road is scheduled to undergo a roadway maintenance project to seal asphalt cracks and patch potholes before applying a sealant material. This maintenance project will create a clean canvas to stripe the roadway based on the outcomes of the pilot project.
County Supervisor Damon Connolly, who represents residents in the affected area, is planning to host a listening session approximately three months after the start of the pilot to hear feedback. Another community meeting is planned for the end of the pilot, which is expected to be sometime in September, to present the data collected and discuss next steps.
Throughout the process, residents are encouraged to contact Connolly's office to provide feedback. Additionally, DPW has a frequently asked questions document on the pilot project website for interested residents. If it is determined that the lane modification does not meet the community's needs, DPW will consider removing the parking in front of Bayside Park and installing a new crosswalk nearby to comply with permitting requirements. Connolly's office and DPW will continue to share information throughout the process.
Contact:
Eric Miller
Assistant Director
Public Works
3501 Civic Center Drive.
#304
San Rafael, CA 94903