For Immediate Release –
San Rafael, CA –
Seismic improvements to be made to Exhibit Hall with grant funding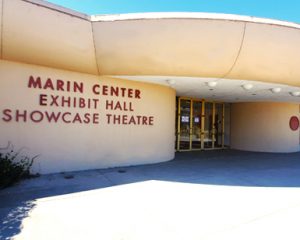 In an ongoing effort to improve the Marin Center facilities, the Exhibit Hall building will undergo a seismic upgrade project beginning in August 2021. The project is expected to take 10 months to complete.
The facility includes the following spaces: Exhibit Hall, Showcase Theater, Bartolini Gallery, meeting rooms, and the Department of Cultural Services offices. While the safety upgrades are being made, no events will take place in the Exhibit Hall, meeting rooms, Bartolini Gallery and Showcase Theatre.
The safety improvements will significantly mitigate risk to the building's occupants in the event of a major earthquake. The $2 million project will focus on strengthening the roof-to-wall connections by installing additional wall anchors, cross ties, and support girders.
"Our hope is that during the retrofit, we will also be able to fund new seats for the Showcase Theater and renovate the bathrooms," said Gabriella Calicchio, Director of Cultural Services. "These facilities provide an important cultural space for our whole community, and we want to make sure they are safe and sound for many years to come."
The Veterans' Memorial Auditorium also will receive seismic upgrades starting in August 2022.
Funding for both safety initiatives comes from the County of Marin, the California Department of Emergency Services, and the Federal Emergency Management Agency (FEMA). The state and federal grant covers 75% of the budget, and the County will pay for the remaining 25%.