For Immediate Release –
San Rafael, CA –
Damaged section of road and hillside to be reinforced with retaining wall using Federal funding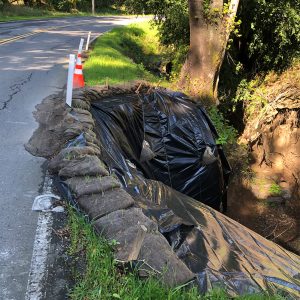 STATUS UPDATE: Starting September 29, the required lane closure will be in place 24 hours a day, seven days per week. Traffic will flow via alternating one-way access.  The full time lane closure is expected to remain in place until the completion of the project in mid/late October.
During the week of September 12, the Marin County Department of Public Works (DPW) will begin work on a stretch of Lucas Valley Road near milepost 3.92, approximately half a mile west of Westgate Drive in unincorporated San Rafael. During the six-week project, repairs will be made to the side of the road adjacent to a tributary to Miller Creek. Drivers should expect short delays due to the weekday lane closure required for the project.
The estimated $580,000 project entails the installation of a 116-foot retaining wall on the downhill side of the road and repairing the damaged pavement. The damages were caused when the hillside soil slid down into the Miller Creek tributary. The effort will reinforce the roadway to protect from future deterioration and sliding.
The project is funded by the Federal Highway Administration Emergency Relief Program. DPW has coordinated with the California Department of Fish and Wildlife and the San Francisco Bay Regional Water Quality Control Board to ensure all permit conditions and best project management practices are met to prevent runoff into the creek.
Work will take place from 7 a.m. to 5 p.m. weekdays and is expected to be completed at the end of October. The effort will require closure of one lane during work hours, during which time traffic will flow through single-lane access and be controlled by flaggers. Traffic holds will be kept as short as possible, approximately five minutes, while still allowing crews to work safely. Both lanes will be open outside of work hours.
Improving roadway conditions across unincorporated areas of Marin has been an ongoing commitment of the County for years and is one of the top priorities for the Board of Supervisors. Each year, DPW aims to improve a balance of local, arterial and collector roads, approaching the selection strategically with a long-term goal of overall network improvement.
Contact:
Hamid Shamsapour
Assistant Director
Public Works
3501 Civic Center Drive.
#304
San Rafael, CA 94903