For Immediate Release –
San Rafael, CA –
Neighborhood in unincorporated Marin County to get $850K in roadway repairs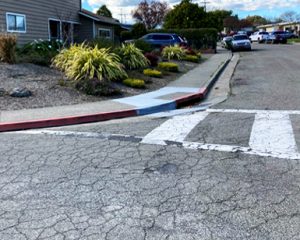 The Marin County Department of Public Works (DPW) will begin a roadway improvement project the week of September 20 in the Loma Verde neighborhood of unincorporated Novato. The $850,000 project will repair and repave about one mile of roads in the area. The work is expected to be completed by early October, weather permitting.
The work will include grinding of the targeted roads, repairing road base failures, and then repaving. Additionally, minor drainage improvements, curb and gutter updates, and sidewalk and accessibility upgrades will be implemented. The project is funded by the County's Road and Bridge Rehabilitation fund.
Construction will take place from 8 a.m. to 5 p.m. weekdays. The work will require temporary periods of single-lane access, during which the traffic flow will be controlled by flaggers. When necessary, short duration residential road closures will be in place with detours as needed. Advance notice will be provided to residents in proximity of work sites as the project progresses.
Improving roadway conditions across unincorporated areas of Marin has been an ongoing commitment of the County for years and is one of the top priorities for the Board of Supervisors. Each year, DPW aims to improve a balance of local, arterial and collector roads, approaching the selection strategically with a long-term goal of overall network improvement.
For example, this summer DPW is conducting a $1.6 million Lucas Valley Road curve realignment project, a $1.6 million roadway rehabilitation project in northern Marin's upper Lucas Valley area, and 9.5 miles of additional roadway maintenance across Marin. Before winter, DPW will be conducting $300,000 of work on Redwood Highway Frontage Road, repairing a section of deteriorating roadway in advance of future improvements along that corridor.
Additionally, DPW will start a $2 million rubberized paving project, using recycled tires as a more environmentally friendly material alternative, which will address 19.6 miles of road across unincorporated Marin. Also, the $18 million Sir Francis Drake Boulevard rehabilitation project, titled Upgrade The Drake, is expected to wrap up an 18-month construction phase this fall. The major project will improve public safety along 2.2 miles of the heavily used roadway.
Contact
Eric Miller
Principal Civil Engineer
Public Works
3501 Civic Center Drive.
San Rafael, CA 94903
(415) 473-6354
Email