For Immediate Release –
San Rafael, CA –
Storm damages that closed the West Marin road expected to be fixed this month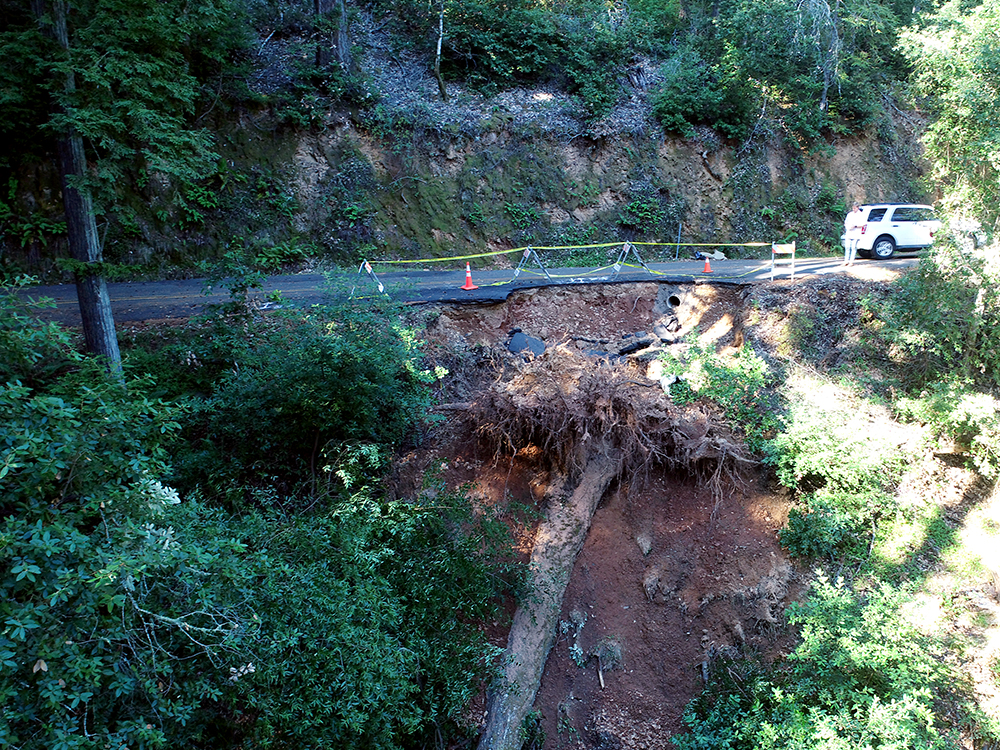 STATUS UPDATE: Repair project completed on January 19, Fairfax Bolinas Road is now open.
Starting this Wednesday, repairs will begin on Fairfax-Bolinas Road in West Marin to address damage from the major storm that struck the San Francisco Bay Area on October 24. The Marin County Department of Public Works is overseeing the project.
Since the storm, 11 miles of the winding rural road have been closed from the Azalea Hill trailhead near Fairfax to Highway 1 in Bolinas. Road crews will conduct repairs at milepost 9.96, near Ridgecrest Boulevard, where a large, uprooted tree fell downslope (away from the road) and caused extensive damage to the embankment. The result was a 15-foot-deep, 25-foot-wide hole in the road's westbound lane.
The road will stay fully closed to all traffic (vehicles, cyclists, pedestrians) while the repairs are conducted. During construction, the closure distance will be shortened to accommodate the work plan. It will be from Azalea Hill trailhead to Ridgecrest Boulevard, which opens up the section of road from Ridgecrest to Highway 1 in Bolinas. There will be heavy equipment in place along the narrow project corridor. For public safety reasons, it is requested that all travelers abide by the closure restrictions.
The scope of the repairs includes filling the hole, replacing a section of a 15-inch concrete pipe culvert that was damaged by the falling tree, and then restoring the roadway and shoulder throughout the site. The restoration work requires regrading and repaving to return the stretch of roadway to its previous condition. Weather permitting, the project is expected to be completed my mid-January 2022.
The $120,000 project is being covered by the County's Road and Bridge Fund. The project went through emergency procurement procedures to fast track the work and get the roadway reopened as efficiently as possible. Reimbursement is being pursued through the California Office of Emergency Services (CalOES[External]).
Contact:
Eric Miller
Assistant Director
Public Works
3501 Civic Center Drive.
San Rafael, CA 94903