For Immediate Release –
San Rafael, CA –
56.8 miles of County roads being worked on during the 2022-2023 paving seasons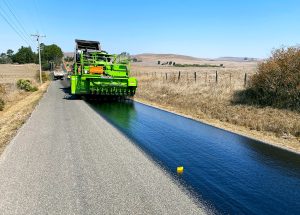 The 422 miles of roads maintained by the County of Marin are crucial infrastructure that people rely on daily to conduct their business, connect with surrounding communities, visit popular attractions, explore Marin's beauty, and live their diverse lives. Additionally, emergency services and law enforcement agencies rely on a quality road network to serve our community and keep Marin safe in times of need.
Improvements and ongoing maintenance of the road network is a major responsibility for the Marin County Department of Public Works (DPW), and a commitment that requires significant planning and funding to undertake.
During this fiscal year, which is from July 2022 through June 2023, DPW will have spent roughly $12 million on construction and construction management contracts to improve 56.8 miles of road through various pavement preservation and roadway rehabilitation projects. That covers about 13% of the total road miles maintained by the County.
The largest pavement project of this fiscal year began last summer and will improve around 40 miles of roadway in the neighborhoods of Lucas Valley, Marinwood, Santa Venetia, Greenbrae, Kentfield, Strawberry, Tamalpais, Hicks Valley, Nicasio, Point Reyes, and San Geronimo Valley. Since preventative maintenance work can only be conducted in good weather, the estimated $3 million construction project was put on hold for the winter months. Work is scheduled to start again this spring and finish up by summer.
This spring, DPW will begin another preventative maintenance project focusing on about 11 miles of roadway in the unincorporated San Rafael neighborhoods of Country Club and Bayside Acres near China Camp State Park, as well as in Nicasio. The estimated construction cost of the project is a little over $1 million and is expected to be finished by the end of summer.
While those two projects focus on pavement preservation work, a more demanding pavement rehabilitation project was conducted this past year in the Lucas Valley area. The project, with a construction contract cost of $550,000, rehabilitated and improved a half-mile of roadway. A second pavement project began last fall and is in progress: approximately 2.5 miles of roadway will receive pavement repairs and a new asphalt overlay in the neighborhoods of Santa Venetia and California Park in unincorporated San Rafael. The estimated $3 million construction project, which is expected to be completed this May, also includes storm drainage upgrades and accessibility improvements.
A third pavement rehabilitation project will reconstruct Hicks Valley Road in West Marin, northwest of Novato. The scope of work covers about 2.8 miles of road and is estimated to have a construction cost of $3.5 million. This construction contract for this project is expected to be awarded in May and the work is anticipated to be finished this October.
DPW also conducts many smaller projects such as isolated pavement repairs and sealing projects. Most will be conducted this spring and early summer and will cost approximately $1 million in total construction contracts.
Many factors are considered when selecting roads for each paving season. A major factor is the pavement condition index (PCI), a standardized measure of a given road segment's quality on a scale of zero to 100. The assessment is conducted by independent engineering consultants through the Metropolitan Transportation Commission. Some of the other parameters include economy of scale, design challenges, road usage data for all user groups, opportunities to coordinate with utility companies, candidates for grant funding, projects that can be efficiently combined with other improvements, roads at risk of imminently becoming impassible, and "failed" (per PCI score) roads that are busy bike routes and/or emergency response routes.
In terms of making road improvements, projects become exponentially more disruptive and expensive as the condition of the road deteriorates. A "good" (per PCI score) road generally only requires preventative maintenance to keep it in good standing, whereas a failed road needs full reconstruction, which is costly and time consuming. For example, $1 million may fund preventative maintenance for 15 miles of good roadway versus the same $1 million funding only 1 mile of reconstruction for a failed roadway. However, there is a wide spectrum of intermediate roadway treatments with costs ranging between those two extremes.
Ultimately the County's roads program is a hybrid strategy of pavement preservation, pavement rehabilitation, and road reconstruction projects. The long-term strategy is designed to create an overall strong road network for Marin. The work is funded by the County's Road and Bridge Program budget, which comes from three sources: the County's General Fund; regional tax measure funding; and California Senate Bill 1 funding. Additionally, DPW staff continually seeks grant funding to bolster the budget.
Contact:
Rosemarie Gaglione
Director
Public Works
3501 Civic Center Drive.
#304
San Rafael, CA 94903