For Immediate Release –
San Rafael, CA –
Funding allocations based on road ratings to help guide improvement program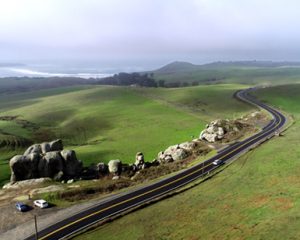 The 425 miles of roads maintained by the County of Marin are crucial infrastructure that people rely on daily to go about their business, connect with surrounding communities, visit popular attractions, explore Marin's beauty, and live their diverse lives.
Improvements and ongoing maintenance of the roads network is a major responsibility for the Marin County Department of Public Works (DPW), and a commitment that requires significant planning and funding to undertake. At the Marin County Board of Supervisors session on June 22, DPW staff presented a proposed two-year budget for the County Road and Bridge Program, as well as defined the condition of the road network and an approach for future paving operations.
The largest portion is allocated to the road program, totaling $9 million per year, which is used to improve and maintain the 425 miles of County roads. The pavement condition index (PCI) is a standardized measure of roadway quality which provides a quantitative value of road condition on a 100-point scale. A ranking of zero to 25 is "failed," 25 to 50 is "poor," 50 to 70 is "at risk," and 70 to 100 is "good."
Averaging the values of road groupings is a standard tool for describing road network conditions across areas. For example, California has a 66 PCI, the Bay Area has a 67 PCI, and Marin County has a 66 PCI. When unpacked, Marin's PCI score of 66 has 53% of roads ranked as "good," 16% as "at risk," 25% as "poor," and 6% are considered "failed."
In terms of making road improvements, the projects become exponentially more intensive and expensive as the condition of the road deteriorates. A good road generally only requires preventative maintenance projects to keep it in good standing, whereas a failed road needs full-depth reconstruction that is a costly and time consuming.
"Not only is it a financially conscious decision, but it's also a far more efficient way of doing things," said Pat Echols, DPW Chief Assistant Director. "The time demands of focusing on the failed roads first would mean that roads in the other brackets would drop down significantly. That strategy would eventually put us in a worse condition overall, both from a physical and financial standpoint."
For example, $1 million could fund maintenance for 15 miles of good roadway versus only 1 mile of failed roadway being rehabilitated. In other terms, maintaining a good road costs an average of $3.50 per square yard, compared to a failed road costing an average of $52.50 per square yard to bring up to good standing.
"With the ultimate goal of bringing all the roads up to good condition, there's a clear best course of action," said Eric Miller, DPW Principal Civil Engineer. "The key is keeping the good roads good, while working strategically from there on the other tiers."
Under this roadway improvement approach, the 225 miles of good roads (53% of 425 miles) would be allocated $2.15 million annually of the $9 million budget. That would allow for 32 miles of roadway to be maintained each year, completing a full cycle every seven years. The remaining 200 miles of roadway in the other three PCI categories would be allocated the $6.85 million annually, allowing approximately 8.5 miles of roadway to be brought up to good standing each year. Following that process, it could take about 24 years to achieve a complete network of good PCI roads.
Each year, as more roads climb into the good PCI category, the budgetary split would need to be revised to account for changes. More money would shift to maintaining the growing category of good roads, while still balancing the more demanding projects of the other categories. By potentially reaching a full network of good roads, the total maintenance cost of the infrastructure could be approximately $4 million, not adjusting for inflation at that point in time. The remainder of the road program budget could then be reallocated to other improvements for Marin County.
This summer's road program is well underway with DPW conducting 9.5 miles of roadway maintenance across the county, in addition to a $1.6 million roadway rehabilitation project in northern Marin's upper Lucas Valley area. Next up is the Lucas Valley Road Curve Realignment project, slated to begin in July and wrap up this winter, as well as about another 20 miles of roadway maintenance work. Also, the $18 million Sir Francis Drake Boulevard rehabilitation project, titled Upgrade the Drake, is expected to wrap up an 18-month construction phase this fall. The major project will improve public safety and road conditions along 2.2 miles of the heavily used roadway.