For Immediate Release –
San Rafael, CA –
Grant funding covers new rapid flashing beacons at specific crosswalks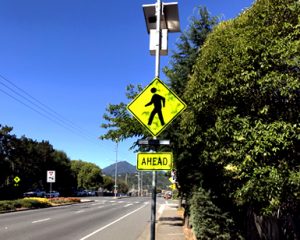 The Marin County Department of Public Works (DPW)  has completed installation of rectangular rapid flashing beacons at three crosswalks in unincorporated areas of Marin. The technology is designed to improve safety by alerting oncoming drivers that pedestrians are in the crosswalk. The project was funded by two grants totaling $100,000 from the Transportation Authority of Marin[External]'s Safe Pathways Program.
Flashing beacon technology enhances safety at "uncontrolled crosswalks," where there are no other forms of traffic control.
The rectangular shaped flashing beacons, as well as the related crosswalk signage, are placed in advance of the crosswalk and at the actual crossing location. The technology, which is activated by the pedestrian using a button, is intended to increase driver awareness of pedestrian activity by producing a flashing light pattern similar to emergency flashers on law enforcement vehicles.
This form of safety equipment can be installed at a fraction of the cost and time needed for a full traffic signal installation. There are 10 flashing beacon locations across the 421-mile network of County-maintained roadways in unincorporated Marin.