For Immediate Release –
San Rafael, CA –
Emergency grant-funded project addresses damages from January 2023 storms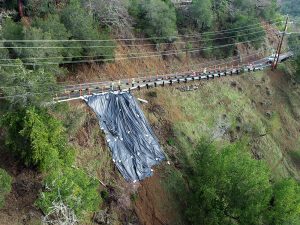 The series of storms that hit Marin County in January 2023 damaged roads across the county and prompted a local emergency declaration by the Marin County Board of Supervisors. The Marin County Department of Public Works (DPW) has multiple repair projects underway in unincorporated areas of Marin using emergency procedures and funding.
Bolinas Road, a primary route between Ross Valley and West Marin, is one of the storm-damaged roads and access has been limited to just one lane at milepost 1.34 near Fairfax since January. During the storm, earth slid out from under Bolinas Road at approximately 850 feet east of the Sky Oaks Road intersection. The damage posed an immediate public safety hazard, and the eastbound lane was closed. The slide area was secured, and traffic control measures have been in place since then to allow for alternating two-way traffic through the westbound lane.
The construction phase of the Bolinas Road repair project begins this week and is expected to be finished in early November. Construction work hours are anticipated to be weekdays from 8 a.m. to 6 p.m. Weekend work may be permitted as necessary and would be announced in advance to minimize inconvenience to travelers.
The repairs include building a 230-foot-long retaining wall, adding an updated guardrail and slightly widening the road and shoulder at milepost 1.34. The project is estimated to cost $2.39 million and is covered by a Federal Highway Administration (FHWA) grant for emergency repair efforts.
Projects designated as emergency repairs, like the efforts underway at milepost 1.34, fall under specific emergency repair protocols. The protocols essentially allow a project to be expedited by conducting the design, permitting, and contracting phases simultaneously, as opposed to the traditional project structure of doing phases sequentially. The emergency protocol also enables access to emergency funding opportunities, such as through FHWA or the Federal Emergency Management Agency.
Most of the construction phase work will be performed with the same single lane closure set up that has been in place since the roadway was damaged. Traffic control measures will remain in place for the duration of the project, allowing alternating two-way traffic through the westbound lane. Drivers and cyclists are required by law to adhere to all roadway laws, which includes following the construction signage and traffic control measures, such as the temporary traffic light that is already in place.
While the project was designed to keep one lane open as much as possible and still maintain all safety requirements, there is no way to perform the repairs without some full road closures. Any such closure would only be permitted when it is necessary for safety reasons, or when the construction activity is not possible within the currently available space. Road closures would be preceded by direct to resident notifications, DPW social media posts and updates to the project webpage. The road closures are expected to only be during construction work hours and then access would return to the single lane closure outside of work hours. However, emergency services vehicles are always allowed access.
When Bolinas Road is closed at milepost 1.34, the recommended detour is along Shoreline Highway. DPW recognizes that this is an inconvenience to residents on Bolinas Road and the other travelers that use the road. DPW would like to thank residents and travelers in the area for their patience and understanding while this important repair project is conducted.
Contact:
Rosemarie Gaglione
Director
Public Works
3501 Civic Center Drive.
#304
San Rafael, CA 94903