For Immediate Release –
San Rafael, CA –
Storm damage to roadway requires extended closure awaiting repair project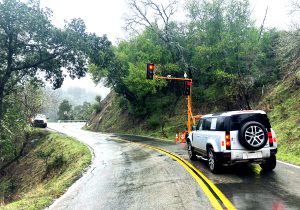 Recent storm damage has resulted in the closure of the eastbound lane of Bolinas Road at milepost 1.34, approximately a quarter mile from Sky Oaks Road in West Marin. The lane closure is due to a roadway slipout – when ground beneath the road slides away – that has made the lane impassable.
The closure will remain until a repair project can be constructed, which may take up to six months to complete. Traffic control measures are in place to allow for alternating two-way traffic through the westbound lane, controlled by temporarily installed traffic signals. Drivers should expect wait times of up to five minutes. The temporary signals will be in place until the repairs are completed.
The series of storms that began on December 27, 2022, brought heavy rains that saturated soil across Marin County. Coupled with bouts of high tides and extreme winds, the intense weather caused coastal and localized flooding, heightened creek flows, electrical power outages, road closures, and downed power lines and trees. A proclamation of a local state of emergency was issued by the Marin County Board of Supervisors on January 10, echoing the state-level proclamation that occurred the prior week.
Over the course of the series of recent storms, the Marin County Department of Public Works (DPW) has responded to more than 800 emergency calls for service, managed 25 road closures, cleared 13 debris slides, removed more than 100 trees from roadways, and performed maintenance work on multiple pump station facilities across unincorporated Marin.
The slipout on Bolinas Road occurred during a storm on January 9. Approximately 100 cubic yards of embankment material collapsed on the downhill side of the roadway, damaging part of the road. DPW staff immediately initiated emergency procedures to close the eastbound traffic lane. Traffic control measures were handled manually with flaggers until mobile traffic signals were installed January 11.
DPW staff members are consulting with geotechnical engineering specialists to assess the roadway condition and adjacent slope stability and are working on the design of a retaining wall. It is estimated that the work could take six months to complete, depending on the availability of the materials and contractors who specialize in this type of work. Construction project details, including estimated cost and any potential traffic control updates, will be announced once the project design has been finalized and a construction contract is approved. It is possible that wait times at the traffic signals may increase slightly during the construction phase.
County staff plans to move forward with constructing the emergency repairs and stabilization improvements to the road while at the same time seeking reimbursement for the costs from the Federal Emergency Management Agency (FEMA).
For the latest County of Marin reports during the winter storms, check emergency.marincounty.org.
Contact:
Rosemarie Gaglione
Director
Public Works
3501 Civic Center Drive.
#304
San Rafael, CA 94903