For Immediate Release –
San Rafael, CA –
Road sealant project will address various roads across unincorporated Marin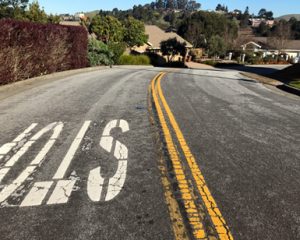 The Marin County Department of Public Works (DPW) will begin a road sealant project during the first week of June, conducting preventative maintenance on 8.2 miles of pavement on roads in unincorporated areas of Marin County.
Construction will take place from 8 a.m. to 5 p.m. weekdays. The work will require temporary periods of single-lane access, during which the traffic flow will be controlled by flaggers. When necessary, short-duration residential road closures will be in place with detours as needed. Every effort is being made to provide advanced notice and minimize disturbances to the residents in proximity of the work sites.
Improving roadway conditions across unincorporated areas of Marin has been an ongoing commitment of the County for years and is one of the top priorities for the Board of Supervisors. Which roads get addressed during any given paving season is based on an evolving list that is prioritized by a variety of complex factors. Some of the categories taken into consideration are the particular year's funding allotment, permit availability, scheduling requirements, coordination with other projects and/or agencies, and each roadway's pavement condition score. Each year, DPW aims to improve a balance of local, arterial and collector roads.