For Immediate Release –
San Rafael, CA –
Municipalities in Marin to receive various traffic signal upgrades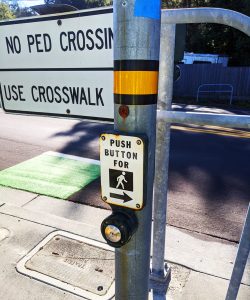 Fifty-nine traffic intersections across nine towns and cities in Marin County, as well as unincorporated areas of the county, will be upgraded in the coming months to enhance public safety. The Marin County Department of Public Works will function as the lead agency coordinating with the cities and towns to implement the improvements.
The 59 intersections were identified through the Systematic Safety Analysis Report[PDF], a detailed traffic safety study conducted in 2018 by an independent third-party consulting company. The planned upgrades are intended to improve traffic and pedestrian safety by reducing the potential of incidents as well as the severity of collisions at the targeted intersections.
The $1.5 million project is funded by a California Highway Safety Improvement Program grant through the California Department of Transportation. The work on the intersections is expected to begin in mid-July and is anticipated to take five months to complete. Much of the work consists of relatively low-cost items but adds up when multiplied by the high quantities needed across all the locations. By combining the individual cities and towns' improvements under one large project umbrella, the work can be accomplished more economically and efficiently.
For the 2018 study, the consultants analyzed traffic and collision data from 11 towns and cities in Marin and the unincorporated areas of the county. The upcoming project targets signalized intersections in Corte Madera, Fairfax, Larkspur, Mill Valley, Ross, San Anselmo, San Rafael, Sausalito, Novato, and unincorporated Marin County. While Belvedere and Tiburon were included in the study, they will not be addressed in the upcoming project. The County of Marin has an agreement (an official Memorandum of Understanding) with each of the cities and towns detailing responsibilities of each agency throughout the design and construction phases of the project.
The proposed improvements include upgrading traffic signal heads to 12-inch LED signal heads for better visibility, adding signal head backplates, installing pedestrian crossing timers, adding audible pedestrian signals at pedestrian push buttons, updating signal hardware to incorporate "Lead Pedestrian Intervals" at crosswalks, replacing outdated electronic components such as cables, and implementing video or detection loops to create advanced detection zones.
Public inconvenience is expected to be minimal as most of the work will be done above ground and only limited trenching may be necessary. However, there will be minor impacts to pedestrian access and traffic flow during some of the work activities. The instances are likely to only be for short periods of time and roadside notifications will be made in advance of any such work.
Contact:
Berenice Davidson
Assistant Director
Public Works
3501 Civic Center Drive.
#304
San Rafael, CA 94903