For Immediate Release –
San Rafael, CA –
Preventative work on pavement will address roads across unincorporated Marin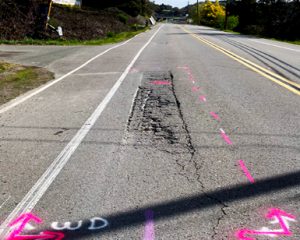 The Marin County Department of Public Works (DPW) will begin a road sealant project during the second week of May, conducting preventive maintenance on 9.5 miles of pavement on roads in unincorporated areas of Marin County.
The project will address County-maintained roads in northern Novato, Green Point, and Indian Valley neighborhoods of Novato and the California Park neighborhood of San Rafael. Impacted residents of the targeted sections of roadway have been notified directly. The work includes road preparation, clearing, microsurfacing and pavement restriping. The project is expected to be completed by the end of May.
Construction will take place from 8 a.m. to 5 p.m. weekdays. The work will require temporary periods of single-lane access, during which the traffic flow will be controlled by flaggers. When necessary, short duration residential road closures will be in place with detours as needed. Advance notice will be provided to residents in proximity of work sites as the project progresses.
The estimated $381,000 project, covered by the County's Road and Bridge Rehabilitation fund, will address pavement showing signs of aging, such as weathering and cracking. The preventative maintenance and preservation of pavement extends the useful life of a street and can help to delay when a street needs to be repaved. This proactive maintenance approach calls for keeping good roads in good condition, rather than allowing them to fully deteriorate through their lifecycle.
"Deteriorating roadways has become a nationwide challenge, and waiting to replace deteriorated roads leads to tremendously expensive and extensive projects," said Eric Miller, Principal Civil Engineer for DPW. "In Marin, we are focusing on cost-effective, sustainable pavement preservation work to help incrementally improve our overall pavement condition while also striving to keep our maintenance backlog from increasing."
Pavement preservation treatments vary greatly depending on the needs of the roadway and may include various sealant operations such as chip, slurry, crack and micro seals, as well as asphalt overlays and other specialized maintenance techniques.
Relative to major rehabilitation or reconstruction, the preservation treatments can be applied to a road segment quickly and for a fraction of the cost, making them an inherently sustainable activity and a financially responsible option. The work process often utilizes low cost, low environmental impact treatments to prolong the life of the pavement. By delaying major rehabilitation activities, energy and virgin materials are conserved, thereby reducing greenhouse gas emissions over time.
Improving roadway conditions across unincorporated areas of Marin has been an ongoing commitment of the County for years and is one of the top priorities for the Board of Supervisors. Each year, DPW aims to improve a balance of local, arterial and collector roads. For example, this summer DPW will be conducting the $2.25 million Lucas Valley Road hairpin turn realignment project, as well a $1.6 million roadway rehabilitation project in northern Marin's upper Lucas Valley area. Also, the $18 million Sir Francis Drake Boulevard rehabilitation project, titled Upgrade The Drake, is expected to wrap up an 18-month construction phase this fall. The major project will improve public safety along 2.2 miles of the heavily used roadway.