County of Marin
Disability Access Program
Accessibility Guidance Bulletin #7a
Creating Accessible PDF Documents
WHY ACCESSIBILITY IS IMPORTANT FOR PDF DOCUMENTS
The Americans with Disabilities Act (ADA) and Section 508 of the Rehabilitation Act of 1973, as amended, require that electronic and information technology developed, procured or used by government entities be accessible to persons with disabilities. By creating accessible PDF documents, you can broaden your readership to include not only people with disabilities, but anyone who reads PDF documents on handheld devices.
As the internet has grown and developed in recent years, PDF (portable document format) has emerged as one of the most popular formats for placing documents on the World Wide Web, and it is commonly used to distribute electronic documents over corporate networks, by e-mail, and on digital media. In large part this popularity rests upon the versatility of PDF documents. In addition, many authors and publishers prefer converting materials to PDF for security reasons offered by this format. For this reason, creating accessible PDF files is a key component to the goal of creating an accessible digital world.
Virtually any electronic document or scanned image can be converted to a PDF document by using appropriate software (including, but not limited to the most commonly used Adobe Acrobat products. These documents can then be read using Adobe Acrobat, the free Adobe Reader or other software.
NOTE: The following guidance is applicable to Adobe products only. If other PDF software conversion tools are used, follow the guidelines in the website accessibility document specifically the section about Images without Text equivalents and documents not posted in an accessible format.
CREATING ACCESSIBLE PDF DOCUMENTS
Selecting PDF Maker settings before conversion (Windows only) Acrobat PDF Maker provides a dialog box in which you can select the settings that PDF Maker uses to create an Adobe PDF document from a Microsoft Office application file. The information given here lists only the options that affect the accessibility of a PDF document. You select these options from the Settings tab, the Security tab, the Word tab, and the Bookmark tab of the Acrobat PDF Maker dialog box.
To open the Acrobat PDF Maker dialog box, start the Office application and choose AdobePDF> Change Conversion Settings. For more information about all the PDF conversion settings that are available for Acrobat PDF Maker with Microsoft Office files, see "About PDF conversion settings (Microsoft Office files)" in Acrobat 7.0 Help.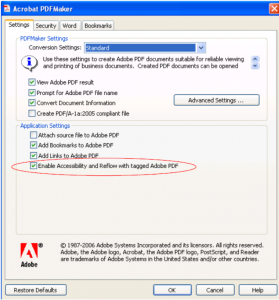 This Guidance Bulletin was developed with assistance from Christine Camilleri, Senior Systems Support Analyst, Information Services – Systems Integration and Support Services. Many thanks.